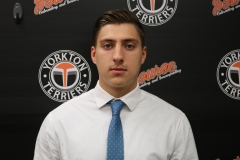 The Yorkton Terriers have punched their ticket into the SJHL's Final Eight after a 5-4 victory over the Notre Dame Hounds on Tuesday night to capture the SJHL Wild-Card series, 2 games to 1.
After the Hounds opened the scoring with the only goal in the 1st period, a PP marker from Jarrett Penner, the Terriers would respond in the 2nd in a big way.
Just 59 seconds in, Cody Bruchkowski would tap in his 1st of the playoffs to make it 1-1. Then would add a couple more markers just 2:30 apart a short time later as Colby Brandt and Chantz Petruic (pictured above) would hit the back of the net to push the home-teams lead to 3-1. The Hounds would cut their deficit in half just under 3 minutes later when Kyle Robinson's long point shot would beat a screened Ryan Ouellette for his 2nd of the post season to make it 3-2. But once again the Terriers would complete their strong middle frame with Brandt sniping home his 2nd of the period on a nice feed in front from linemate Chantz Petruic to help the Terriers take a 4-2 lead into the 2nd intermission.
In the 3rd the Terriers will grab their first three goal lead of the night as Branden Klatt would re-direct a long point from Tyson Janzen for his 3rd of the playoffs to make it a 5-2 game. The Hounds wouldn't go down with a little bit of a fight as goals by 20 year old's Marshall Wilton and Charles Martin would pull the visitors within one but thats as close as they would get.
Ryan Ouellette was once again solid in the Terrier goal making 43 saves on 47 shots to grab his 2nd playoff win.
The Terriers now advance on to the SJHL Quarter-Finals where they'll take on the Nipawin Hawks which will likely begin on Friday night in Nipawin for Game 1.
Post Game with Terriers Head Coach/GM Mat Hehr