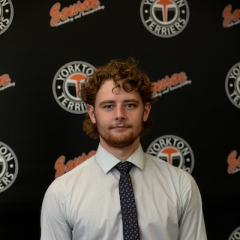 TERRIERS 6, MUSTANGS 2

The Yorkton Terriers were able to win for the third time in a row on Friday night after a 6-2 win over the Melfort Mustangs.

The Terriers got off to an early start offensively as just 3:49 in, it would be Carson Henry banging home his 6th of the season to give them an early 1-0 lead.

The two teams then exchanged goals late in the 1st from Tye Scherger (MFT) and Steven Norum (YKT) and Yorkton led 2-1 after 1 period.

In the 2nd, the Terriers special teams came up big with three powerplay goals from Norum (pictured above), JD Hall and Tanner Sklaruk in a span of 13:13 to increase their lead to 5-1.

The Mustangs added their own powerplay goal with 3:50 left from Curtis Hammond to make it 5-2 through 40 minutes.

The only goal in the 3rd would be an empty netter from Erik Boers with 3:28 left in regulation.

Terriers' G Kael DePape made 34 saves on 36 shots to earn his 10th win of the season, while James Venne got the start for the Mustangs allowing 5 goals on 16 shots before being relieved by AP Alex Bell who stopped all 12 shots he faced.

The Terriers will look for their 4th straight win on Saturday night when they visit the Viterra Division-leading Estevan Bruins at Affinity Place.

Elsewhere,
Cole Larocque scored the game winning goal in the 3rd period as the Melville Millionaires won their 3rd straight, 4-3 over the Weyburn Red Wings.

Zach Cain scored twice for the Mils', while Noah Wills chipped in with a single.

Troy Hamilton led the way for the Wings with 2 goals.

Alexis Giroux turned aside 35 Red Wing shots to earn the win in the Mills' net.

The Mills head back on the road on Saturday to take on the Melfort Mustangs at the Northern Lights Palace.

=====

Other Friday games in SJHL,

Humboldt 4, Flin Flon 3 (SO)

Notre Dame 1, Kindersley 3

La Ronge 3, Nipawin 2 (SO)