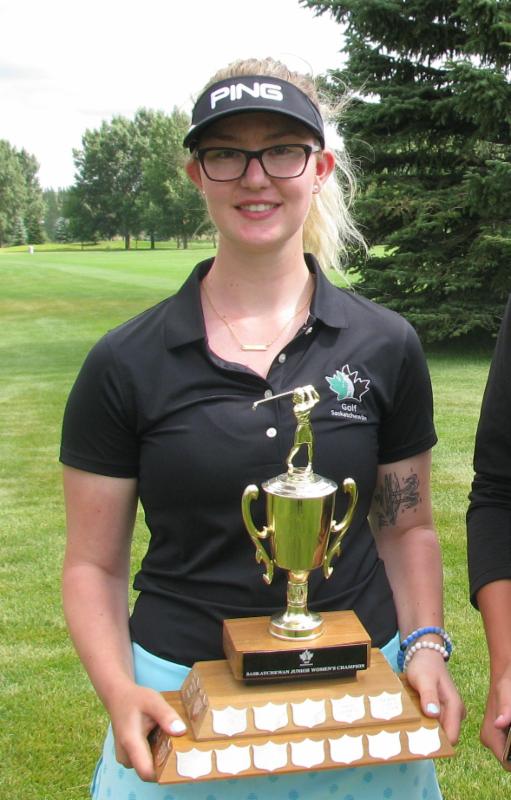 (from Golf Sask)
The 2017 Saskatchewan Junior Golf Championships wrapped up yesterday (Wed) in Swift Current and Melville's Chloe Sies was able to repeat as the Junior Girls champion.
Sies captured the crown after shooting a final round of 9 over par 81 to finish the tournament at +23 overall and a 9 shot win over Alexandra Schmidt and Hannah McNeil.
"It feels pretty, I'm pretty proud of myself for being able to do it twice in a row and it's also fun", Sies said in a phone interview after the round.
Sies will be competing in a couple more National events this summer as she head off to the Canadian Junior Girls Championships Aug 1st-4th at the Camelot Golf & Country Club in Camelot, Ontario and then she'll be in Winnipeg August 8-11 to represent Saskatchewan in the 2017 Canada Summer Games.
Yorkton product Ella Kozak also competed in the girls event finishing in 10th place.
On the boys side,
Yorkton's Stephen Oleskiw fired a final round of 2 over par 74 to finish with an overall score of 7 over which was good for 6th.
Tayden Wallin of Humboldt won the event after finish -2 after a 2 under par 70.
Another local product was in the field in the Jr. Boys U15 closed competition as Yorkton's Jackson Long had a 6th place finish after finishing with a 3 round score of 278.
GX94's Ryan Young chatted with Sies about the win.