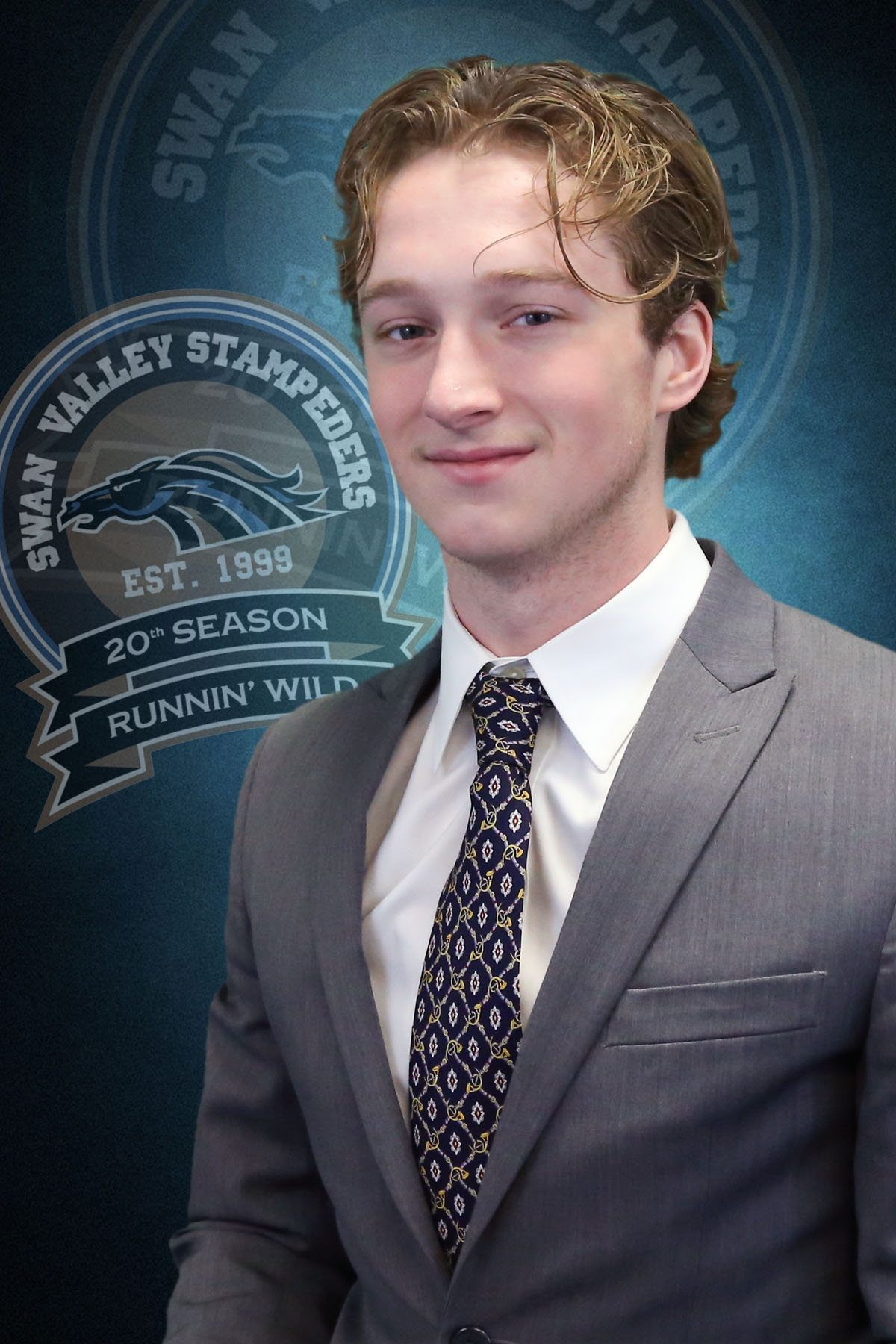 The MJHL Championship series is now down to a Best of 3 after the Swan Valley Stampeders defeated the Portage Terriers 7-2 in Game 4 on Saturday night from the Centennial Arena in Swan River.
The Stamps for the 2nd time in the series would get the first goal as Josh Tripp would take a nice feed in front and snap home his league-leading 11th of the playoffs to make it 1-0 just 8:04 into the first.
They would add to their lead with 3:30 left in the first frame as after a big scramble in front the puck squirted out in front right to a wide-open Matt Osadick who made no mistake by a sprawled out Ethan Peterson for his 7th of the postseason to give the home-side a 2 goal lead after 20 minutes.
Swan Valley would continue to put the pedal to the metal in the 2nd as just 3:25 in on the PP, Brad Goethals from the left circle would snap it past Peterson for his 10th to make it 3-0.
The Stamps would add two more goals on the man-advantage just 1:02 apart a short-time later off the sticks of Matt Osadick and Campbell Balk (pictured above) to make it a 5 goal Stamps' advantage. Balk, a West Olive, Michigan product would add his 2nd of the period just over two minutes later as after he was hauled down on a breakaway he would be awarded a penalty shot and would be successful on it to make it 6-0. Brian Harris then would get into the scoring party with 8:35 left in the middle frame to make it a 7 goal Swan lead just over half-way through the game.
But the Terriers would respond with a couple late goals in the middle frame as first up Caelan McPhee would walk in from the right point and go top-shelf on Merek Pipes for his 1at of the playoffs and then a short time later, Scott Mickosi on the PP would wire in his 6th of the playoffs and 3rd in as many games to make it a 5 goal game and thats as close as the visitors would get on this night.
Merek Pipes earned his 10th victory of the playoffs making 32 saves on 34 shots in the Stamps net. For Portage, Ethan Peterson got the start but was pulled after allowing 5 goals on 17 shots then back-up Nathan Moore made 5 saves on 7 shots in relief.
So the MJHL Turnbull Cup Final is now tied up at 2-2 setting up a huge Game 5 on Tuesday night in Portage La Prairie. GX94 will broadcast the game with Yorkton Dodge Junior Hockey, pregame show begins at 7:20 with the play by play kicking at 7:30PM MB time from Stride Place.