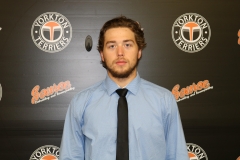 The Yorkton Terriers will head into the Christmas break on a winning note after a 4-3 shootout win on Tuesday night over the Estevan Bruins at Affinity Place.
The home-team would strike first just 2:30 into the 1st as Bruins veteran Johnny Witzke would get a nice pass in front and one-time home his 10th of the season to give Estevan a 1-0 lead. The Terriers would respond though just under 4 minutes later, as Jared Legien would walk across the Bruins' blueline and use that laser wrist-shot and beat Grant Boldt over the left pad for his team-leading 27th of the year to even it up at 1-1. That score wouldn't last long though as after a mad scramble in front one of the Terriers would cover the puck in their crease which would draw a penalty shot for the Bruins. On the penalty, rookie defenceman Devan Harrison would snipe home his 2nd beating Ryan Ouellette over the right pad to regain the Bruins their one lead after 20 minutes. Shots after 1 period were 12-9 in favor for Estevan.
In the 2nd, Bryce Platt would give the Bruins their first two goal lead of the night as he would capitalize on a Terrier defensive turnover and the former Regina Pat would beat Ouellette for his 12th marker of the season to make it 3-1. But the Terriers would respond at the tail-end of a lengthy power play as Jared Legien (pictured above) would take a nice feed in the high slot from Chantz Petruic and make no mistake for his 2nd of the night & 28th of the season to cut the Terrier deficit back to just one after 2 periods. Yorkton also led the shot column after 40 minutes at 19-18.
The Terriers would grab the only goal of the third as Aiden Bulych would drive hard to the Bruins' net and re-direct a nice cross ice pass from Branden Klatt past Grant Boldt with just over 4 minutes to go in regulation to tie things up at 3-3.
After overtime solved nothing, the Terriers would get 3 big stops in the shootout from Ryan Ouellette on Bryce Platt, Turner Ripplinger and Michael McChesney and the only goal from Jared Legien to lead them to the extra point.
The Terriers now go into the break with a 20-12-1 record on the season, good for 41 points and 6 point lead now on Estevan for top spot in the Viterra division standings.
Yorkton will have just under a couple weeks off in between games, with their next game happening on Sunday Dec. 30th when they host the Melville Millionaires for 5th Highway 10 battle of the season. GX94 will broadcast the game with Yorkton Dodge Junior Hockey, "Sask Milk" pregame show begins at 1:50, pxp starts at 2PM from the Farrell Agencies Arena.
Post Game Audio from Head Coach/GM Mat Hehr below: