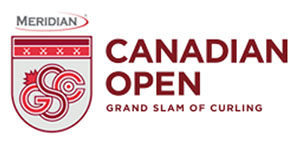 The 4th stop of the 2019/20 Grand Slam of Curling season will take place this week right here in the Parkland region as the Meridian Canadian Open will kick off tonight (Tues) at the Gallagher Center in Yorkton.
Sixteen of the best Men's teams and sixteen of the best Women's rinks from around the world will be in the city to compete for the 3rd major of the season.
The opening draw will take place tonight (Tues) starting at 7PM and the draw features:
A- Brad Jacobs vs. Glenn Howard
A- Yannick Schwaller vs. Mike McEwen
A- Brendan Bottcher vs. Ross Paterson
A- John Epping vs. Kirk Muyres
A- Brad Gushue vs. Jason Gunnlaugson
Wednesday, Thursday, and Friday draws will go at 8AM, 12 Noon, 4PM and 8PM with Saturday's at 7:30AM, 11AM, 3PM and 7PM.
Meanwhile on Sunday, the Women's Final goes at 11AM and it'll be a 2PM start for Men's Final.
For more information go to:
https://thegrandslamofcurling.com/events/canadian-open/
Caught up with Event Chair Gerry Adam below: