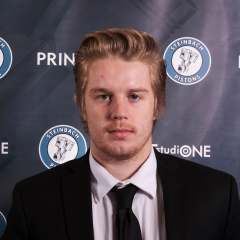 Kasyn Kruse (pictured above) scored twice while also adding an assist for a 3 point night to lead the Swan Valley Stampeders to a 5-1 win over the Dauphin Kings to take a 2-0 series lead in their Best of 7 MJHL Quarter-Final.
Troy Quinn, Bradly Goethals and Josh Tripp also scored for Swan while Merek Pipes made 36 saves on 37 shots to earn his 2nd straight win in goal.
Riley Buller scored the only goal for the Kings who got 38 saves in the loss from Ethan Slobodzian.
The Stamps and Kings will now meet in Game 3 of their series on Wednesday night. GX94 will broadcast the game with Yorkton Dodge Junior Hockey, pregame show is at 7:20 with the PXP happening starting at 7:30PM MB time.
Other MJHL Playoff results:
Portage 3 Waywayseecappo 1
Steinbach 6 Winnipeg 4
Virden 5 Selkirk 1
**Virden, Portage, and Steinbach now lead their Best of 7 series, 2-0
===================================================================
In SJHL Playoffs,
The Yorkton Terriers had chance to sweep their Best of 3 SJHL Wild-Card series, but on Sunday in Wilcox they came up a little bit short as they fell 5-1 to the Notre Dame Hounds.
Jakob Breault got things started just 6:06 into the 1st with his 1st of the playoffs to make it 1-0 before Branden Klatt would respond for the Terriers just 2:11 into the middle frame with his 2nd of the series to make it 1-1 early in the 2nd. The Hounds would respond though with a couple goals just 1:13 apart from Marshall Wilton and Zach Kosteniuk later in that period to help the Hounda take a two goal lead at 3-1 into the 2nd intermission.
After a scoreless first two-thirds of the 3rd, the Hounds would respond with 2 quick goals late in the final few minutes off the sticks of Kosteniuk and Jarett Penner to help the home-side stave off elinination.
Riley Kohonick in the Hounds net made 24 saves on 25 shots to earn his 1st SJHL playoff victory while Ryan Ouellette was once again solid despite giving up 5 goals, making 35 saves in the loss.
The two teams will now battle it out for the final position in the SJHL Quarter-Finals on Tuesday night for Game number 3 from the Farrell Agencies Arena. GX94 will broadcast the game with Yorkton Dodge Junior Hockey, pregame show will go at 7:20 while the PXP kicks off at 7:30.
Terriers Head Coach/GM Mat Hehr Post Game
Meanwhile in the other SJHL Wild-Card series,
The Flin Flon Bombers swept their Best of 3 series after 6-2 win over the Weyburn Red Wings.
The Bombers now advance to take on the Battlefords North Stars in the SJHL Quarter-Finals.